Traeger Ironwood XL Pellet Grill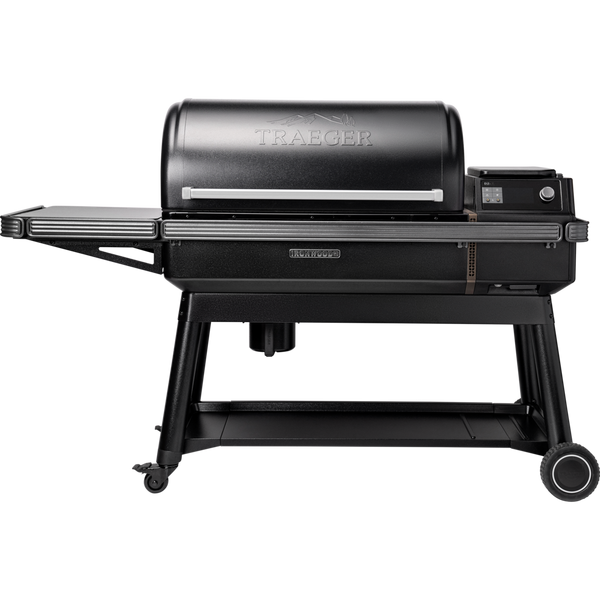 Ironwood
XL
Welcome to the next generation of wood-fired grills
2 sizes available, selected option is Traeger Ironwood XL Pellet Grill
Fast Replacements
24/7 Live Support
Easy Online Claims
---
Ironwood XL
 

The Ironwood XL Difference

The Ironwood XL is completely redesigned to help you explore new flavor profiles and turn up the heat for your grilling and outdoor cooking.This WiFi-enabled pellet grill is here to deliver Wood-Fired Flavor, Elevated.
 

Elevate your craft with the Ironwood

It's loaded with additional features to help you take your cooks to the next level. Double-sidewall insulation maintains steady heat levels to give you even more consistent results, while Super Smoke Mode lets you amp up the wood-fired flavor with the press of a button.
FEATURES
Downdraft Exhaust & Super Smoke Mode
Pellet sensor
Dual Position Smoke/Sear Bottom Grate
WiFIRE Technology
D2 Grill Controller
Double Side Wall Interior
Included Meat Probe
Porcelain-Coated Grill Grates
All-Terrain Wheels
Locking Caster Wheels
Grill Tool Hooks
 

CONSISTENCY

The Ironwood delivers results you can count on. No worries, more flavor, more fun.
 

CONVENIENCE

More room for your food and the ability to always stay in control makes for an easy grilling experience.
 

VERSATILITY

Rack up fish, meat, veggies, and more with a flavorful finish.
PRECISION TEMPERATURE CONTROL
Smart Combustion™ technology maintains consistent cooking temperatures, while fully insulated dual-wall construction reduces temperature fluctuation when the mercury dips.
IMPROVED WOOD-FIRED FLAVOR
Traeger FreeFlow firepot + Super Smoke® Mode keep fresh smoke flowing over your food to ensure the highest possible quality wood-fired flavor.
The EZ-Clean™ Grease & Ash Keg collects drippings and pellet ash in one large container that's easily accessible for quick and convenient cleaning.
WiFIRE® technology lets you command your grill and monitor your food from anywhere.
MAKE IT YOURS – ENDLESS CUSTOMIZATION
Set your grill up in a way that works best for you with P.A.L Pop-And-Lock™ and ModiFIRE® accessories.
MAKE IT

 

YOURS

The P.A.L Pop-And-Lock™ Accessory Rail allows you to arrange extra shelves, tool hooks, storage bins, roll racks, and more in the way that suits your cooking style. ModiFIRE® cooking surfaces sit securely on your grill grates to instantly expand your cooking possibilities.
 

POP-AND-LOCK STORAGE BIN

Keeps everyday cooking essentials such as rubs and sauces within easy reach at all times.

 

POP-AND-LOCK ACCESSORY HOOKS

Arrange these hooks any way you like to keep the right tool for the job close at hand.

 

POP-AND-LOCK FOLDING FRONT SHELF

Gives you more space for prepping, plating, resting, and more, and folds down when not in use.

 

POP-AND-LOCK ROLL RACK

Adjustable roll rack holds most sizes of paper towels, butcher paper, foil, wax paper, & more.

 

MODIFIRE REVERSIBLE CAST IRON GRIDDLE

Expand the capabilities of your Traeger grill even more with the ModiFIRE® Reversible Cast Iron Griddle.

 

MODIFIRE FISH & VEGGIE TRAY

Keeps chopped veggies, seafood, and other small or flaky items from falling into the fire.
CAPACITY & SPECS
Total Weight
199
Cooking Space - Rack 1
396
Cooking Space - Rack 2
220
 

10-YEAR LIMITED WARRANTY

The Ironwood features premium craftsmanship and the highest-quality materials to ensure it's built to last.
 

YEAR-ROUND CUSTOMER SUPPORT

Whether you need help troubleshooting your grill or you're having a turkey crisis on Thanksgiving Day, we're always here to help.
 

COMMITMENT TO EXCELLENCE

We promise that we'll do everything we can to make your Traeger journey as enjoyable-and delicious-as possible.
 

INCREDIBLE WOOD-FIRED FLAVOR

All-natural hardwood pellets don't just fuel the fire-they're the secret ingredient. Our premium pellets are engineered to deliver the perfect smoke and best possible flavor.
 

SET-IT & FORGET-IT CONVENIENCE

Just pick the temperature you want to cook at and let your Traeger do the rest. Traeger grills features simple, oven-like controls make cooking easy.
 

EPIC FLAVOR, ENDLESS POSSIBILITIES

Grill, Smoke, Make, Roast, Braise, BBQ, & more all on one grill. With Traeger, there's truly no limit to what you can cook.
Unleash Your Grilling Potential

 

Explore Delicious Traeger Recipes

Looking for inspiration for your next meal? We've got pellet grill recipes that let you grill, smoke, braise, bake, roast and BBQ.
 

FAQS

Commonly asked questions about our exclusive lineup of wood pellet grills.
Can I use the Ironwood without being connected to the Internet?
You can, but we've put in the work, so you don't have to. Not only does WiFIRE allow for precision temperature control from anytime or anywhere, but having a connected grill means that you receive regular software updates sent over the air that power the best performance in your grill, just like with your smartphone.
Can I sear on the Ironwood?
Absolutely! The main cooking grates produce great searing. This grill holds and maintains high temperatures at the grills grates to give you that savory crust on your food. If you're cooking low and slow, try putting your food on the upper racks for best results.
Are drip tray liners available?
We've designed the Ironwood be our easiest grill to clean. Our funneled drip tray provided edge-to-edge coverage and not only captures all dripping and excess, but funnels it into one easy-to-access container along with the ash form the pellets. Covering the drip tray with anything, including foil or liners, will significantly impact the performance of the grill and could damage the drip tray or grill.
What is the difference between the Ironwood and the Ironwood XL?
We'll break it down for you. The Ironwood features 616 square inches of total cooking capacity and the Ironwood XL features 924 square inches. Other than cooking capacity, it's the exact same grill.
Will everything taste super smoky?
Everything tastes better cooked over wood and the Timberline let's you have complete control over smoke. Not all temperatures are equal. The higher the temps, the less smoke will be produced. Food cooked between 165° - 225° will produce more smokin' flavor to fit your tastebuds than those cooked at higher temps.
How long does it take to assemble a Ironwood?
Got 30-60 minutes? That's all you need to assemble. Watch our digital assembly instructions on the Traeger app to walk you through step-by-step instructions.
I already have a gas or charcoal grill. Why should I get this grill?
Wood-fired food just tastes better. No other grills can match the taste, versatility, and ease for a Traeger grill. This is more than a grill. You can grill, smoke, bake (yes, BAKE), roast, braise, and BBQ. Not all grills are created equal, this is the best of the best.
The Ironwood is built to last, and we stand by it with our limited 10-year warranty. Experience any defects in material or workmanship under normal use and maintenance from up to 10 years from the date of original purchase and we've got you covered. And if you have any questions about your grill, our seasoned experts have your back. We're here for you 24/7, including holidays, because we're cooks—not bankers and we care about our craft.
How does your return policy work?
If you have any problems, we're here for you. Call us at 1-800-TRAEGER and we'll walk you through it. You can exchange your order for any unopened grill to receive a new grill or full refund of the original purchase price, within 45 days. Return shipping charges may apply. For products purchased from an authorized Traeger dealer, please contact the dealer for details and policies applicable to their return policy.